Learn About Limbrel and Joint Inflammation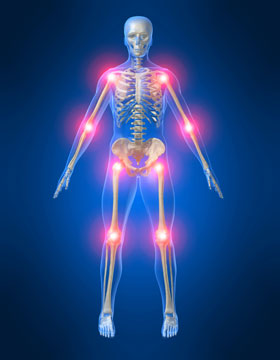 Osteoarthritis (degenerative joint disease, wear and tear arthritis) is the most common form of arthritis found in the adult population of the United States. The likelihood that you or someone you know has degenerative joint disease is very high. More than half of the population of individuals age 65 and older show evidence of wear and tear arthritis in at least one joint, while younger people tend to develop osteoarthritis as a result of work or sports-related injuries. There are many contributing factors to joint inflammation that can lead to osteoarthritis, but today there is a natural prescription product to help you deal with the discomfort of wear and tear arthritis.
Limbrel, a plant–based prescription medical food, was developed and specially formulated to help meet the specific dietary needs of patients suffering from joint inflammation due to osteoarthritis and must be used under physician's supervision. Limbrel is an effective therapy as shown in clinical trials that manages the discomfort felt from degenerative joint inflammation and disease.
A big key to dealing with joint inflammation is to recognize symptoms early and begin the process of managing the condition. Due to the fact there are so many activities in your life that will cause stress in your joints, it is easy to overlook minor discomfort and assume time will naturally heal your joint inflammation. However, if you experience stiffness or swelling around a joint for more than a few weeks, you probably need to make an appointment with your physician. The longer you wait, the more difficult it will be to effectively deal with the onset of osteoarthritis.
Joint inflammation can be dealt with by several lifestyle changes. A well-balanced diet and the addition of a regular exercise routine are two ways to begin the process of effective metabolic management. If your doctor decides the addition of Limbrel will help, then he/she will prescribe it. Chronic use of Limbrel will contribute to the dietary management of joint inflammation and a better life.
Other subjects that might be of interest:
Joint Osteoarthritis | Natural Therapy | Osteoarthritis Causes | Osteoarthritis Exercise | Osteoarthritis Feet | Osteoarthritis Flavonoid