Learn About Limbrel and Osteoarthritis Shoulder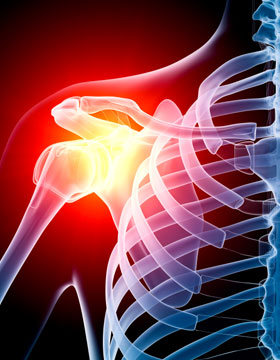 Osteoarthritis, also called degenerative joint disease or "wear and tear" arthritis, is the most common form of joint disease in adults living in the United States. Characterized by the breakdown in cartilage that covers bones in the joints, degenerative joint disease causes a great deal of discomfort and can make what used to be simple tasks become difficult procedures. This becomes a definite problem when the shoulder is affected by osteoarthritis. Shoulders are the most complicated joint in the body because of its wide range of movements, constant use and the substantial physical strain applied on a daily basis. Although the shoulder is not a common location for osteoarthritis, the disease may develop after injury. Limbrel, an all natural product for the dietary metabolic management of osteoarthritis may be a big help in dealing with the discomfort of osteoarthritis in the shoulder.
Developed specifically to help meet specific nutritional needs of osteoarthritis shoulder patients, Limbrel was created as a new approach to metabolic management. By adding a botanical product such as Limbrel to your diet, it is possible to improve the quality of your life.
In addition to improving your diet, a consistent range of motion exercise program can help reduce the discomfort and loss of function from "osteoarthritis shoulder." It will be in your best interest to consult your doctor when looking to change your diet and start an exercise program. He or she will be helpful in charting a safe path and get you on the road to better metabolic management of "osteoarthritis shoulder."
Remember, the combination of regular exercise to preserve motion of your shoulder and dietary management of the metabolic basis of osteoarthritis may offer significant benefit in reducing discomfort and preserving function when you have osteoarthritis of the shoulder. Check with your doctor on the possibilities of adding Limbrel to your diet today.
Other subjects that might be of interest:
Osteoarthritis Side Effects | Dietary Management | Joint Inflammation | Joint Osteoarthritis | Natural Therapy | Osteoarthritis Causes