Learn About Limbrel and Osteoarthritis Knee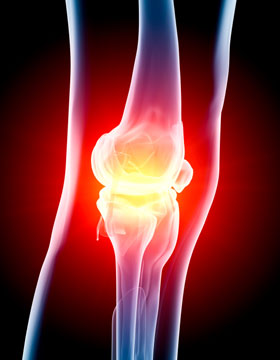 Osteoarthritis, also called degenerative joint disease, is the most common form of arthritis of in the United States. The disease is caused by cumulative stress on joints coupled with metabolic and other chemical changes in the joints. The knee is the most common location for joint disease and causes discomfort, stiffness and considerable difficulty getting around to do ordinary daily activities. Knees take a lot of stress from standing, walking and running so it is not surprising that they suffer cumulative injury over many years from osteoarthritis. Knees of too many people suffer unnecessary discomfort and considerable loss of mobility because of inadequately managed degenerative joint disease.
Limbrel, developed more than six years ago, is an all natural product designed specifically to manage the dietary metabolic imbalances that underlie osteoarthritis. Knee functional stiffness and discomfort from osteoarthritis, in conjunction with a carefully planned exercise program, can be managed with Limbrel. This will allow you to stand and walk more freely so you can do more of the things that make your life enjoyable.
Being overweight increases the stress on your osteoarthritis knees and can contribute significantly to the progression of knee joint degeneration and to your discomfort, loss of mobility and disability. Therefore, dietary management should be combined with a specifically designed exercise program for the best therapeutic results. Limbrel can help by adding dietary metabolic management to help the osteoarthritis in your knees.
Only your doctor can prescribe and manage Limbrel therapy. If you are experiencing discomfort, stiffness, or are having trouble standing or walking , you may have osteoarthritis knees. It is best to see your doctor to get started on a therapeutic program and to see if Limbrel should be included in that program.
Other subjects that might be of interest:
Osteoarthritis Neck | Osteoarthritis Shoulder | Osteoarthritis Side Effects | Dietary Management | Joint Inflammation | Joint Osteoarthritis