Learn About Limbrel and Joint Osteoarthritis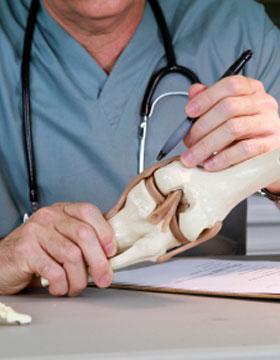 Joint osteoarthritis (degenerative joint disease) is the most common form of arthritis found in adults. At least 20 million Americans suffer from discomfort due to degenerative joint disease, with more than half of the population of adults 65 years of age and older showing evidence of osteoarthritis in at least one joint. Common tasks such as getting in and out of a car or tying your shoes can become difficult processes when dealing with joint osteoarthritis on a daily basis. Limbrel is a natural medication to manage the symptoms of joint osteoarthritis caused by excessive wear and tear on joints. Limbrel is a prescription medical food that must be administered by a physician to manage the underlying metabolic processes of joint osteoarthritis.
Management of the metabolic processes of joint osteoarthritis is critical for patients dealing with this disease. Accomplishing this requires a variety of lifestyle changes on the part of the patient. Unhealthy fats contribute to joint inflammation in osteoarthritis and diets rich in healthy fats can help in dealing with the underlying metabolic processes of degenerative joint osteoarthritis.
Limbrel was developed and formulated to meet the specific dietary requirements of patients suffering from joint osteoarthritis. Composed of plant-based flavonoid ingredients, Limbrel can provide a natural option in the process of dealing with degenerative joint osteoarthritis and can lead to better joint function and mobility.
If you are a patient suffering from joint osteoarthritis or are experiencing increased stiffness in your joints and reduced mobility, speak with your physician to determine if Limbrel is an appropriate therapy for you. You can use the doctor locator feature on this site to find a physician familiar with Limbrel in order to begin this discussion. The addition of Limbrel to your daily regimen of a healthy diet and exercise can help manage the discomfort and stiffness associated with joint osteoarthritis and helps you achieve an improved quality of life.
Other subjects that might be of interest:
Natural Therapy | Osteoarthritis Causes | Osteoarthritis Exercise | Osteoarthritis Feet | Osteoarthritis Flavonoid | Osteoarthritis Help